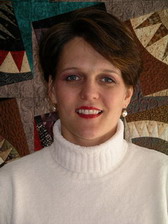 Jackie du Plessis was born and raised in South Africa. After graduating college with a teaching degree in the arts, she and her husband emigrated to the United States.

While living in South Africa she learned many forms of needle art from creative woman surrounding her including her mother and grandmothers.

Coming to the U.S. provided a whole new source of supplies and a huge opportunity for Jackie to fine tune her talents in designing and finishing.

In 2000, Jackie's business - It's Fine-ally Finished - became a reality and in 2002, she started designing and teaching dimensional needle art projects.